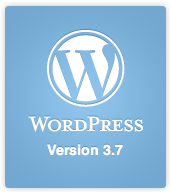 For those of you who want to try out new things, WordPress released 3.7 Beta 1 last week.     Keep in mind this is a BETA, so I would advise NOT using it on a live site.
One of the cool things with this release is the Automatic, background updates feature. 
3.7 Beta 1 will keep itself updated. That's right — you'll be updated each night to the newest development build, and eventually to Beta 2. We're working to provide as many installs as possible with fast updates to security releases of WordPress — and you can help us test by just installing Beta 1 on your server and seeing how it works!
Go check it out if you have some time.  We are a community and it takes all of us to make things work.  More information and the download link can be found here.