Last year I wrote my WCLAX Manifesto, after WordCamp LA ended, but this year's recap is slightly different. It's about what I learned from being a co-organizer.
Quick little back story on my WordCamp history: The first WordCamp I attended was in Orange County 2012.  I had heard something about this "community conference event thingy" and then did some googling.  I found the site, though tickets were sold out. I headed over to Twitter and scored a ticket via a sponsor.  Up until that moment, I thought I was an island when it came to this world since I was using WordPress (albeit lightly) starting in late 2009, and knew nothing of what was about to change my life.
That WordCamp Orange County back in 2012 was eye opening for me. I really wanted to be a part of it, meeting really cool people and smart people. I remember meeting Brandon Dove and Jeffrey Zinn and thinking "they are awesome". (I still think that). I also remember seeing Alex Vasquez and Sé Reed speak. That is when things clicked for me. I was hooked.
A year later, I was asked to help out as the volunteer photographer for WordCamp LA. I accepted since photography was my main business at the time, I'd get a free ticket and get to meet a bunch more real cool people, learn and share what I could. (BTW I'm still love photography, but the industry changed, I've changed and though I still take on assignments, I am more selective on the events and projects that I'll take in that world.)
I attended a few more WordCamps over the years, and then thought perhaps I could be a speaker.  Another year went by and I then applied to speak. Oddly enough I was accepted, which really stressed me out a first. Me a speaker at WordCamps? Yikes!  Sure, I like to talk(!), and had been teaching WP101 at the local adult school for 3 years at that point, now but this was WordCamp. These were my peers. I was nervous. My stress was unfounded as I was welcomed, supported and everything worked out just fine.  I have since spoken an a bunch more WordCamps since.
That brings us up to this past weekend's event. I remember telling Alex Vasquez last year when it was announced that he was to be the lead for 2015, that I was interested in helping.  I'm pretty sure he wasn't sure what to make of my offer since I'm often joking around, making light of certain situations.
A few months went by and finally he reached out.  His texts were simple and included: "are you sure?" and "now is the time change your mind if you need to"  and finally, "this is serious. It'll be fun, but its serious"   None of that scared me off.
What I learned from be a co-organizer of a WordCamp is the following:
It takes a great leader: who delegates well and can still jump in when needed. Alex Vasquez was just that person.
It takes a great team: which we had. Everyone did their part. No complaints, just focused on getting the job done.
It takes great speakers: we had awesome speakers, too many that couldn't possibly fit in to a 2 day event.
It takes great sponsors: who signed up early and and are

 here to help 

to the community.
It takes great volunteers: not gonna lie here, "my" volunteers were ROCKSTARS. Maybe I'm biased, but its true. They rocked!
When all of those things listed above exist & get mixed up in the best possible way, the experience is amazing.  From our weekly calls, to a few in person dinners, to speaker/sponsor/volunteer dinner, to the actual event & after party, I don't feel that there was a moment of "work" in the negative sense.
I am sharing this as I have recently spoken about our community at a WordCamp Columbus.  I've realized that I am happiest when surrounded by YOU. Each one of you. The community at large. The fact that my Twitter stream, Facebook page and email inbox have you in them, makes me happy. Even my non WordPress friends have noticed it, as well as my wife. Is that a bit sappy? Maybe, but it's the truth and I'm not ashamed to say it!
One last thing: I highly encourage you to get involved in the community. Only good things will come of it. Trust me.
So there you have it.  Another WordCamp in the books.  See ya next year!
-Adam
P.S.  Again like last year… easier to write this vs record it as a podcast.
---
The WCLAX 2015 Organizers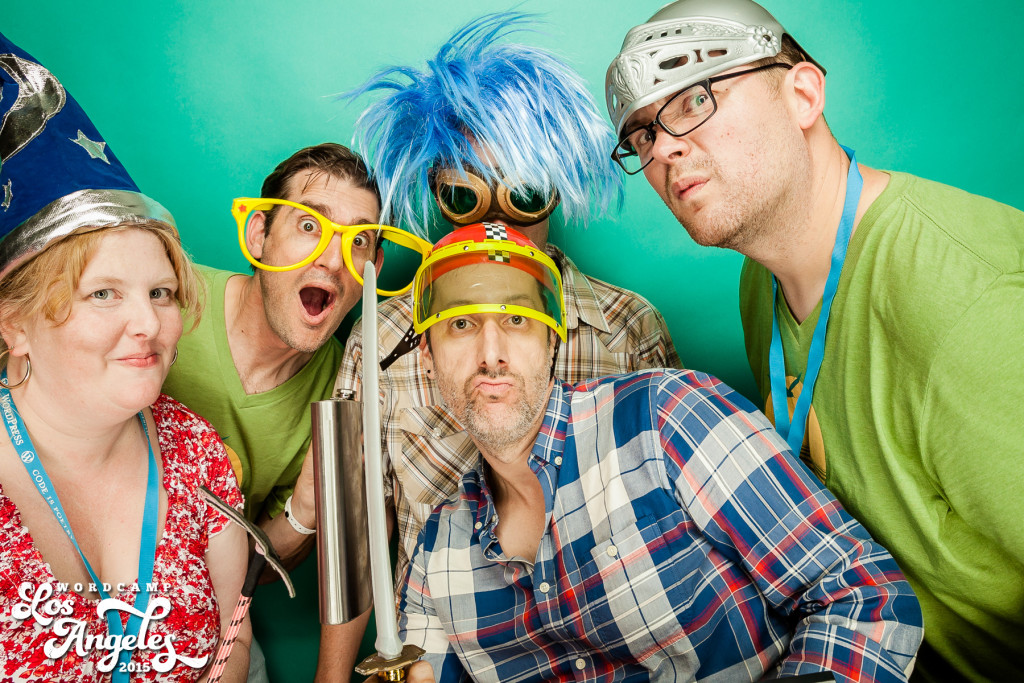 Alex Vasquez, Natalie Maclees, Greg Douglas & Me.