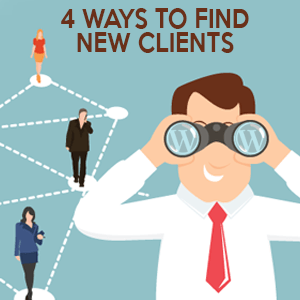 This week I share 4 ways to find new clients.
Upcoming Events
Segment 1: In the News
Segment 2:  4 ways to find new clients
Segment 3: Tool of the Week
Read Transcript
Adam:
This is the Kitchen Sink WP Podcast, Episode 109:
Why hello there, this is Adam Silver, the host of the Kitchen Sink WP podcast. Thanks for being here, let's get started.
All right, upcoming events as always. We have WordCamp Torino, which I believe is in Italy, April 1st and 2nd. There are no tickets available for that. I just checked moments ago. If you are in Italy or nearby, by all means go to Facebook or Twitter to see if there's anyone selling the tickets, but there were no tickets available directly from the site.
Also upcoming, the same weekend, is the CMS summit. You know, Content Management Systems Summit, April 1st and 2nd. That's in Uganda, Africa, and that's pretty cool. I looked into that because I noticed that there are a whole bunch of automatticians, people who work for Automatic, going, and going to be speaking and sharing about WordPress at that event. So, that's really cool actually. It's not your traditional conference but looks really interesting, and that's also next weekend as well.
All right, so that's it for the upcoming events. Get out there, do something in the community, go to an event, meet people, etc … As I would say. All right, segment 1 in the news, WordPress came out with Reese candidate 1 for 4.5, which is now available for testing. As promised, I did finally take some time and just poked around the new version 4.5, the Beta 4, then RC 1. For the most part, I don't really see a lot of front-end changes in the moment, and I don't think there are. I think that most of the changes that I can tell, and what I've read about are a behind-the-scene kind of thing, under the hood if you will.
A couple of things that were noticeable and that I read about were an updated piece of markdown, and if you do 3 dashes, you'll get a horizontal rule, instead of adding in HR tag. So, dash dash dash gives you an automatic horizontal rule. There's also the moments timeline embedded from Twitter. I tried that out, that was pretty cool as well. Like I said, there has been 2-3 hundred fixes and bug fixes from Beta 1, 2, 3, 4, and 49 this last week alone for bug fixes. So we're on track to see this in the first week and a half of, I believe, April. I believe April 12th, like I said was the ideal date for this to ship out. We'll probably get a nice little video and some more information about what changed completely as well. Remember, don't run the Betas, even though they use candidates on a live site. You want to use that on a sub-domain, a testing or staging server, or the way I do it when I do local work, I use desktop server. They are good friends of mine and I love using that for all my Beta and development work, locally.
Moving on to Segment 2, this is meat and potatoes, but before that I want to say a special thanks to our sponsor. This week the sponsor is Harvester Solutions. People do ask me for help in social media, and the help in Twitter, and Pinterest, all those other things, and I do that in my day-job … as well as for a few clients, but sometimes I need a break from it, or I just don't have the time. That's when I refer those people to Harvester Solutions. Now, Steven Harvey over there has great service. He's passionate about social media. He's good at it. He takes the time to really dive deep and figure out what you're missing or what you should be doing. He has a couple of services, Quick Digital Analysis, Full-Digital Audit, and a social media foundation plan. If you need help give Harvester Solutions a call or an email. He also donated to the 100th episode, and he cc'd me on what he gave away to the person who won. It was really impressive, I was blown away by what he did for that. If you're looking for help in social media, a quick digital analysis, a full-digital audit, or some plan for your social media foundation, give Harvester Solutions a call or email. HarvesterSolutions.com. Thanks to them for sponsoring this week of Kitchen Sink WP podcast. Okay, that's that.
On to Segment 2, meat and potatoes, this week I wanted to talk to you about 4 ways to source some business. Meaning, about 2 weeks ago, over on Slack, someone asked me how can they find WordPress work? I'm not sure why they asked me, maybe they listened to the podcast, they didn't really say how they found me, which was interesting. I answered, I gave them some places online. It got me thinking on a bigger scale, what if you're really trying to grow your WordPress business, or start an agency if you will. So here are 4 ways, or places, that will help you if you're starting out in this space, or if you're just in a bit of a slow down.
First and foremost, number 1, referral. Now this is the best way to get work, obviously, because someone's referred to you for work that you've done before. It's also the hardest way because it's the chicken and egg dilemma, what came first? If you're just starting out, you don't have anything to show, you don't have any work at all. So, it's hard to get this off the ground. Of course you can then work for free to get the referral later. Only do that if you really believe that … if you're passionate about the project, and you see the potential of a win-win. You don't want to just do a site for free, and then you're not happy with the client, they're not happy with you. So do some for free, a lot of people do that, or reduce-rate. The referral is obviously the best way when you get to that level.
Number 2: Recently I spoke with a friend of mine and he shared with what his company did early on in their agency. They offered a freebie. In this case, they did a site-review and then an evaluation. All a person had to do to get this was, to go to a URL that they set up on their agency's site. They entered information about what they currently had, the URL, what they were looking to do, and then the agency in question, the small agency, took a few days, maybe a week, and reviewed this site. They went pretty deep and they offered ideas and solutions to the issues at hand. This is a great thing, it gets you in as far as offering values. As long as you bring a value to the table, the next step would be, best case scenario, that the person asking for the review hires you to fix the problems, or come up with a plan, or a budget, or an estimate. Keep in mind, this free evaluation or site review is completely free. There's no strings attached. They get a document, or results, or an email with no expectation of work. You're putting the good will out there because you want the long-term relationship. They want to trust you. You want them to trust you as well.
Number 3: Networking events, Chamber of Commerce. This is a great way, at the bare minimum, to meet people. Let people know what you do. Ideally, you don't want to hard sell, because I can tell you, no one really likes to be hard sold. I know I don't want to be hard sold, but I love to meet people, and if I can then offer the value of what I do, the Chamber of Commerce is a great starting point. Keep in mind, you only get out what you put in, just like the WordPress community. You want to show up and be there, and help out, and offer a valuable feedback. Don't just go and say hey, here I am, and just disappear.
I can tell you from experience, I did this about 20 years ago, when I was doing more video production work, I joined my local Chamber of Commerce, and I just used to go and sell it, but I wouldn't get much out because I didn't go consistently. You have to make yourself known and have appearance, and offer to help in some capacity. I should have … Should've, could've, didn't, I should have shot some events for them for free, just helped them out, or even done something for free or major reduced rate or come up with some video testimonial work for somebody else, but didn't do any of that. So, what did I get out of that? Nothing, I paid the fee, I paid the dues, I paid the lunch, and it didn't work out. It put a bad taste in my mouth. This was 20 years ago.
So then what did I do? I moved to Colorado, I joined the Chamber there, and I realized my mistake. So I took the time, cultivated relationships and friendships, and then got work from that. It took awhile, took 4, 5, or 6 months, but it helped. It is a great place to offer the Chamber of Commerce, those members, the free evaluation for the site review. That's one way to definitely do that. So, you go to the Chamber and hear something for free. You're not selling, you're just offering a review. You know, you're the expert in the industry, here's what I can do for you, it's totally free, no strings attached. You'll be surprised at how well that will work.
The Number 4: This is the hardest one of the bunch, the cold-call. Never fun, for most people, and why would you do this? Why would you want to just cold-call? It's sales, at its bare minimum, you're doing sales, right? Well I'll tell you what, I've come across a bunch of terrible websites, in WordPress, some were not in WordPress, and they're dated, they're old, they're not responsive, and they're just plain ugly. The problem is, I really want to help them, but how do I sell to that? How do I just call up with no relationship, no connection, and it's like telling them that their child is ugly. Hey! I love your child but he's ugly, because your website is not good. It's a hard, hard thing to do. Now if you hired a sales person, where you gave a commission, they're just diving for dollars. You could do that as well but it's just not the same. I think there needs to be some type of initial relationship-base. That would be like the warm call, like a warm lead based off of the referral maybe.
Recapping, you can go the referral way, which is awesome but it's the chicken and egg. A site review and evaluation for free, expect nothing in return except to offer great value and service. Network events, join the Chamber of Commerce, or the cold call, which is by far the hardest, but it's pure sales. I hope those help, those are 4 ways in my mind, that you could go out and try to find work. There are other ways, there's a couple of websites. There's Craigslist, which honestly, if truth be told, Craigslist is tough. It's a lot of lower end stuff and people want it yesterday and they don't want to pay anything. I'm not a huge fan of Craigslist, just from my own opinion and my own experience.
Moving right along, Segment 3 Tip and Tool of the Week. This week I'm talking about GF Chart, which stands for gravity forms. Gravity Forms Chart, GFChart.com is an extension to gravity forms, you can have plug-ins to plug-ins, and it empowers you to show visuals of your collected data from a forum. The forum is great, we get information for a forum or a survey, but then it's just kind of text, or it's an Excel document or a CS V. This plug-in really does some amazing things to show you a visual in a pie graph, in charts, it breaks things down. There's a whole bunch of built in templates this way. It's $49, it's a premium plug-in at the $49 rate. I have no connection to them what-so-ever. I just saw it looked pretty cool. Check it out, it's over at GFChart.com.
That is it this week. If you have any questions, go ahead and send it in via email. Adam@kitchensinkwp.com Or, use the speakpipe functionality of the website. Thanks for listening. We'll see you next week. Go out, do some awesome things with WordPress, talk to you later. Bye!
---
This week's Episode is sponsored by Harvester Solutions